Ballpark Collection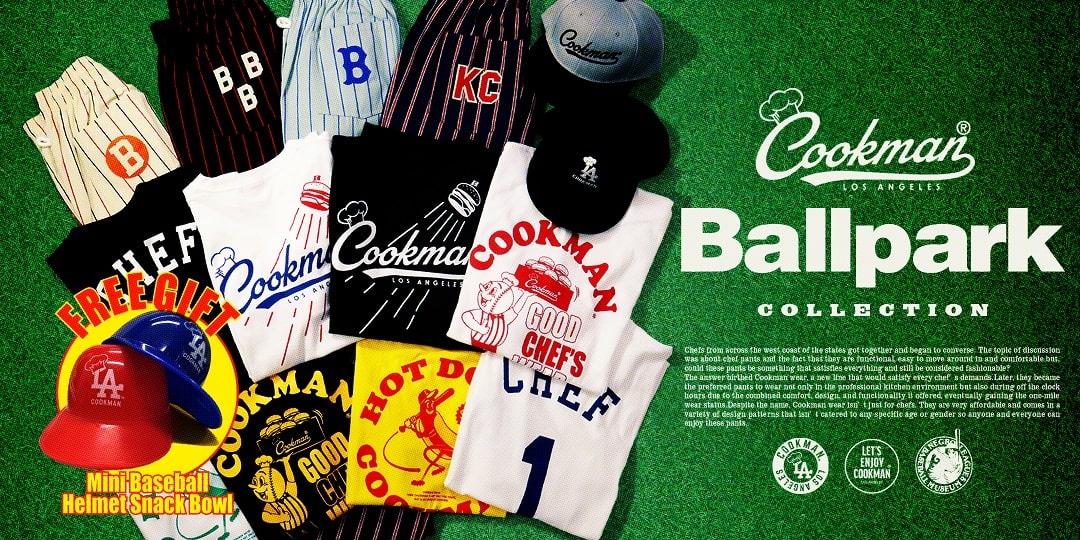 Cookman
Ballpark Collection


This capsule collection is based on the concept of a ball park food vendor. The collection includes T-shirts, caps, and chefpants.

Purchasers of Ballpark Collection items will receive a "Mini Baseball Helmet Snack Bowl" as a free gift. (The color will be random.)
This cap-shaped Bowl is used as a container for ice cream at ballparks. Please take this opportunity to enjoy it!
---
Ballpark T-shirts Collection


The T-shirts are available in four designs with the uniform logo, back number, Hot Dog, and Food Vendor illustrated on the back print.

 
---



T-shirts
Chef Hat LA




T-shirts
No.1 Chef




T-shirts Hot Dog Hitter
Hot Dog Hitter




T-shirts
Food Vendor
---
Ballpark Baseball Cap Collection
BASEBALL CAP is a flat visor type embroidered CAP. It is available in two colors: the uniform logo and the LA logo with a cocked hat.
---
Chefpants is collaborating with NEGRO LEAGUES, a baseball league for blacks only that existed in the U.S. from 1920 to 1948.